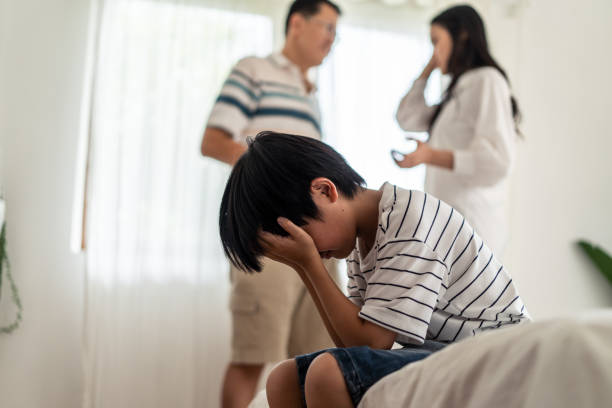 Divorce is a difficult process for everyone, but it may be especially difficult for children. Divorce can be particularly stigmatising and alienating for children in India, where traditional family structures and values remain intact. There are, however, support networks for children who are going through a divorce, and it is vital to understand how divorce might affect them and how we can help.
How does divorce affect children in India?
Divorce can have a range of effects on children, depending on their age, personality, and circumstances. The following are some of the most common repercussions of divorce on children:
Emotional distress: Children of divorced parents may experience despair, rage, and bewilderment. They may believe their family is disintegrating and blame themselves for the divorce.
Behavioral issues: Youngsters may exhibit aggressive, disobedient, or withdrawing behaviours. They may also struggle to sleep, eat, or concentrate.
Academic performance: A child's academic performance can suffer as a result of divorce. They may struggle with schoolwork, be absent frequently, or drop out entirely.
Relationship problems: Children of divorced parents may have difficulty forming and keeping relationships. They may have trust issues and be afraid of being abandoned.
What support systems are available for children going through a divorce?
In India, there are numerous support networks for children whose parents are divorcing:
Professional counselling can assist children in coping with the emotional and psychological impacts of divorce. Kids can acquire appropriate coping strategies and work through their emotions.
Support groups can provide a secure area for youngsters to discuss their experiences and connect with others who are in similar situations.
Books, films, and other educational resources can assist children in understanding divorce and coping with it. These resources might also help parents understand how to support their children.
Family members can offer emotional support and stability to children who are going through a divorce. These can provide youngsters a sense of belonging and help them preserve their sense of normalcy.
Real-life case study
Rhea, a 12-year-old girl from Bombay, lives with her parents and younger brother. Her parents had been squabbling a lot recently, and she overhears them discussing divorce. Rhea is terrified and unsure what to do. She believes it is her fault that her family is disintegrating.
Rhea's parents decide to separate, and she begins to suffer in school. She has difficulty concentrating and is frequently absent from school. She is lonely because she has no friends with whom she can discuss her condition.
Rhea's instructor notices that she is upset one day and proposes that she speak with the school counsellor. Rhea talks with the counsellor, who helps her understand that the divorce was not her fault and that she has a support structure in place. Rhea is advised by the counsellor to join a support group for children of divorced parents and is given educational tools to help her cope.
Rhea gradually begins to feel better. She meets new people in the support group and learns good coping strategies. Her grades improve, and she begins to feel more confident and less alienated.
If you or someone you know is going through a divorce, keep in mind that there are support services for children. Do not be scared to ask for assistance. Consider subscribing to our YouTube channel and bookmarking our website for more information on family and kid issues.