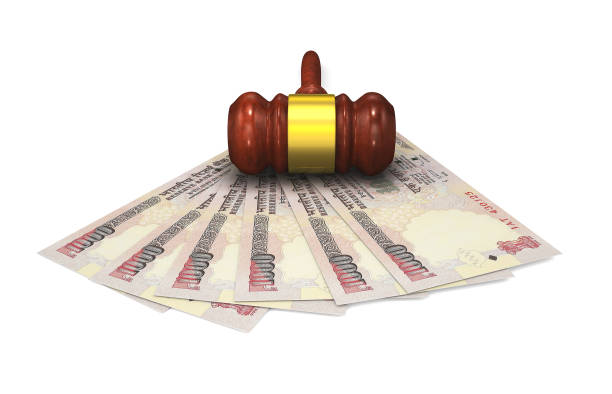 Divorce is a legal dissolution of marriage. A divorce is among the most tragic and painful misfortunes for any married couple. The whole procedure of divorce is definitely a tough affair to get through.
Nowadays, the rate of Divorce is increasing, stigma of divorce is vanishing, and all of this is happening because of the factor that human wants are becoming more complex. 
Human nature wants more, but are not willing to compromise and also very casual and quick about ending a marriage.
Cost of filing divorce petition:  The cost of filing the petition for divorce in India around Rs. 250. The procedure of divorce is complex and sometimes it may even take upto a decade. The time depends upon the nature of the conflict between the husband and wife and also the intensity of arguments between the couple.
Factors connected to a lawyer's fee: The fees of lawyers for a divorce are dependent upon the various factors like nature of dispute etc. Factors discussed in detail are given below :
Nature of Dispute – A divorce can be a mutual consent divorce or a contested divorce. Generally, cost of a mutual consent divorce is less, as there are not many formalities involved. In a contested divorce, both the parties go through a divorce by a litigation dispute in the court of law. This procedure involved more time, greater pressure and high legal fees.
Experience and standing in the court –

If the lawyer hired is decent, it is expected that he/she is to charge more. Often, an experienced lawyer charges on a per hearing basis which he makes in the court. He may even charge for each stage of divorce procedure which includes draft application.

Depends on the charges/Relief framed – The lawyer's fees also depend upon the charges framed like child custody, maintenance, domestic violence. With the increase of the charges, the workload also increases, so it is reasonable for a lawyer to ask for more fees in such cases.
Financial status of party –

Lawyer's fees also depend upon the financial status of the party who wants to file for divorce. It is many times seen that many lawyers do not charge or charge a negligible amount to poor clients. Many lawyers earn only from 10% of their cases, and the rest 90% of cases, they do it for free for indigenous people.
Reasons for the expensive nature of Divorce: Divorce is expensive because of the hefty and complex nature of Divorce. 
Also there are many documents required in a divorce petition like Marriage Certificate, Address Proof of husband, wife and matrimonial home, passport size photographs, evidence of marriage, evidence that they are living separately, income statements, profession details, information about both spouse's families etc.
Another reason for increased cost of litigation in divorce matters is that lawyers often do not try to end the litigation as fast as possible. 
They keep on asking for further dates from the court to file replies. It is a thumb rule that the cost of litigation is directly proportional to the time duration of the litigation. 
This also increase the cost of litigation in divorce matters.
Cost of Divorce also depends upon the area or jurisdiction where the case is filed. For Example: If the case is going before the Supreme Court, then the fees will be more. Different lawyers in different cities have different fees.